Welcome…
Welcome to the SecurEnvoy blog. We'll be posting about what's new at SecurEnvoy, what we've been up to, and our take on the some of the biggest issues in IT.
As well as our latest news, we'll be talking about lean IT, and why it's important to offer a compatible, integrated solution. Compatibility isn't something that can't be guaranteed by any one feature: it's the result of a commitment to various attributes. These could include support for the biggest and best networks to ensure flexibility, it might be the provision of pre-loaded passcodes for superior remote access, or even the range of third party vendor relationships that a supplier offers.
Whatever the approach, it's vital to ensure that lean IT is committed to compatibility and the ability to integrate, if it is to be adopted and embraced by businesses of all sizes.
We hope you enjoy reading the blog, and please get in touch if we can help with anything.
Thanks for reading,
Steve Watts, Sales Director
Category: Industry News

Multi-Factor
Authentication
(MFA)
Any user. Any device.
Anywhere.
For companies that take authentication seriously.
Learn more about SecurEnvoy MFA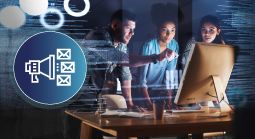 What to read next...