Tokenless® two factor authentication is officially a business grade service
SecurEnvoy is delighted today to confirm that it has successfully patented its 'preload' technology for SecurAccess and SecurMail. This sanction ensures other organisations cannot 'copy' its pioneering solution for reliable, business grade, tokenless two factor authentication (2FA).
SecurEnvoy's preload technology avoids vulnerabilities to communication problems – such as coverage dead spots, delays in transmissions, or other issues previously associated with SMS delivery, at the time the user initiates access. As pre-loading occurs every time the user's session terminates, the use of SMS as a business grade 2FA service is endorsed as a credible alternative, not just a backup, to physical tokens.
"When we invented tokenless authentication, ten years ago, we knew SMS was the way forward. However, with issues such as delivery delays and coverage black-spots, the illusive 99.9% availability needed to be resolved if it was to be recognised as a credible business grade solution," Andy Kemshall, technical director and co-founder of SecurEnvoy explains. "By creating preload functionality, we resolved the problem. However, we've always been concerned that others could copy our intellectual property. These patents, and those outstanding, protect and secure our pioneering technology. Now, while others may claim to offer the same solution, only SecurEnvoy can – and ever will, deliver a business grade tokenless authentication service."
SecurAccess turns any mobile phone that can receive SMS into a ready-made authentication device. It allows organisations to provide remote staff with industry standard 2FA without the pain and cost of deploying legacy hardware tokens. Unlike traditional tokens that take months to deploy and replace, SecurAccess can be rolled out to more than 20,000 staff an hour without the pain, cost or environmental impact created by legacy hardware distribution.
Designed to prevent confidential data falling into the wrong hands, at the click of a mouse, SecurMail is a revolutionary way of sending email securely using a simple patented approach that bypasses the complexity of traditional certificate based solutions. A pioneering combination of two-factor authentication, encryption and SSL technology, SecurMail requires two forms of ID from the intended recipient. When an email is sent, the recipient gets a link to a web page and a passcode via SMS to read it.
Category: Industry News

Multi-Factor
Authentication
(MFA)
Any user. Any device.
Anywhere.
For companies that take authentication seriously.
Learn more about SecurEnvoy MFA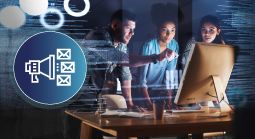 What to read next...