Tokenless two-factor authentication defies "Heartbleed"
The existence of Heartbleed, a vulnerability in the OpenSSL open source software, was recently announced. The OpenSSL encryption tool is used worldwide on countless websites, which means the loophole can be used by hackers to access data stored on computers, such as passwords, certificates, etc., even if the websites utilise encryption with the https protocol. But unauthorised access via stolen user identities is prevented by the tokenless two-factor authentication procedure from the developer SecurEnvoy. None of the solutions from this manufacturer have such security vulnerabilities, as they do not make use of OpenSSL.
In other words, users of the tokenless two-factor authentication method are not compromised. Quite the contrary in fact – "the SecurEnvoy solutions can also provide protection when used together with products from other manufacturers that are affected by Heartbleed," comments Andy Kemshall, Technical Director at SecurEnvoy. "This is because, at best, cyber criminals would only be able to capture single use passcodes from computer memories. But these are valid only once and would have already expired, i.e. ceased to be functional."
Using SecurEnvoy solutions, users can unambiguously identify themselves without the need for additional, dedicated tokens; this is because mobile devices such as smartphones and tablets are used as authentication tools. The passcodes required for authentication purposes are sent via SMS, e-mail, landline call, QR code scanning or a soft token app. Because of this tokenless approach, the solutions can be installed very quickly.
Two-level seed records maximize security
SecurEnvoy ensures this high level of security by dividing the seed record, which is a special algorithm used to create the one-time passcode. The user needs such a numerical code in order to login using tokenless two-factor authentication – the passcode is combined with personal login details in order to grant access, with only the correct combination allowing the login to succeed. At no time is SecurEnvoy itself in possession of information about the seed records and passcodes that are generated. Instead, part of the record is generated locally on the client's server, while the second part is defined using characteristic properties of the mobile appliance used. This effectively forms a "fingerprint" consisting of information about the SIM card, the CPU or equivalent. Each time the user requests a passcode, the user's appliance decrypts the first part of the seed record and defines the second part.
Category: Industry News

Multi-Factor
Authentication
(MFA)
Any user. Any device.
Anywhere.
For companies that take authentication seriously.
Learn more about SecurEnvoy MFA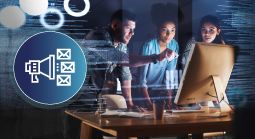 What to read next...