Tokenless authentication makes hardware investments unnecessary
Increasing numbers of employees work from home or while on the move. As a result, the need for remote access solutions is growing. And when networks are accessed remotely it is particularly important to verify the identity of users in order to prevent unauthorised access. Instead of having to acquire expensive additional tokens and thus invest in further hardware, it makes sense for companies and organisations to make use of the award-winning SecurAccess tokenless technology. The solution unambiguously verifies identities using devices such as smartphones. SecurEnvoy has developed and has been granted a patent for this method, and the manufacturer will be presenting SecurAccess at Stand C3-2E in Hall 3 at the GITEX Technology Week in the Dubai World Trade Centre, from 12th to 16th October.
The UK-based company's tokenless method allows users to obtain a numeric passcode via SMS, email or soft token app. This is then used as further proof of the user's identity, in addition to a username and a password. Even if a user (sometimes) has no internet connection or mobile phone reception, the passcode can be entered using the keypad of a landline telephone, or authentication can be carried out using the one-swipe option, which is based on a one-time QR code.
LuLu authenticates users without the need for a token
The potential savings resulting from not having to purchase any new tokens or other hardware have been realised by the LuLu Group International, which is based in Dubai. The corporate group previously used a token-based solution from RSA Security, which proved to be too costly in the long-term. "We are very pleased with the SecurAccess solution, as we can now very rapidly set up remote access for our employees and partners," comments Madhava Rao MS, Chief Information Officer (CIO) at LuLu Group International. "This also improves our CO2 footprint as resources associated with the use of physical tokens are no longer consumed."
In a test conducted by SC Magazine, SecurAccess impressed in particular in terms of its ease of setup, administration and use. SecurEnvoy experts will be available to explain the possibilities offered by tokenless two-factor authentication at Stand C3-2E in Hall 3 at GITEX. Furthermore, visitors can stop by at SecurEnvoy's partner Bulwark Technologies at Stand B1-10 in Hall 1.
Category: Industry News

Multi-Factor
Authentication
(MFA)
Any user. Any device.
Anywhere.
For companies that take authentication seriously.
Learn more about SecurEnvoy MFA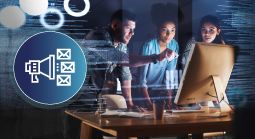 What to read next...