Three reasons why the tech sector loves SecurEnvoy
Every company makes data and network security a priority, but firms in the technology sector pay particular attention to security issues as it is often an integral part of the products and services they offer. There is no better example than Symantec, the world's leading computer security company, who have been using SecurAccess since June 2008. Symantec has been at the forefront of security software since the company's inception in 1982, developing antivirus, firewall, storage and management software.
Symantec decided to deploy SecurEnvoy's tokenless two factor authentication system as a replacement for the previous physical token system used by the company's pre-sales team. "The main reason we adopted SecurAccess was as a fail-safe measure" said Adam Burt, senior technical consultant for pre-sales at Symantec. "If our pre-sales team forgot their tokens when going out to demonstrate our products to clients remotely, they were unable to access our demonstration environment. This proved to be an administrative nightmare because they had no other means of logging on to our environment. We were looking for a solution that not only solved this problem and was cost-effective, but also allowed for easy adoption for our pre-sales team." SecurEnvoy's method of delivering passcodes via SMS proved to be ideal for Symantec.
T-Mobile is one of the largest mobile phone networks in the world, and its recent merger with Orange makes it the largest by number of subscribers in the UK. T-Mobile was finding its previous physical token system to be inconvenient: "Running 3,000 secure tokens was proving to be a major overhead, and wasn't user-friendly" said Darren Westmore, project manager at T-Mobile. "SecurAccess has eliminated those problems. But the best thing about it is that SecurAccess and SecurICE strengthen our own messages about mobile phones, and gives a new layer of functionality to our own products, strengthening our brand values even further."
T-Mobile's SecurEnvoy deployment was similar to Symantec's. Instead of using tokens or smart-cards, the SecurAccess system authenticates T-Mobile's remote workforce by sending a passcode to each user's mobile phone. When users wish to log on to the corporate system, they simply enter their Microsoft User ID and password, and then the passcode that has been pre-enabled on their mobile phone. Once the passcode has been used, it is superceded with a new one sent to the phone via SMS. Who better than a mobile phone company to understand and endorse the power of mobile phones!
Like Symantec, T-Mobile expects to make considerable savings by swapping from token-based two-factor authentication to the tokenless SecurAccess method. Purchasing, replacing and distributing tokens, plus deployment costs and extra training mean that physical tokens require considerable investment.
Bristol-based CSITech is also a computer security company, specialising in audits, penetration testing and forensic investigation. CSITech work with secure organisations, government agencies and police forces around the world, so protecting valuable and sensitive information is a vital part of the company's business.
Nick Furneaux, CSITech: "As our staff travel around the globe for business we found that our hardware tokens were hampering our business practice. We selected the phone-based technology from SecurEnvoy as it did not require any software installing upon the phone and could be used even with loss of signal and SMS delays. Investigation of users' habits demonstrated that they protected their mobile phone far more than any other type of authentication device."
CSITech, T-Mobile and Symantec are just some of the many companies that have seen the huge advantages in convenience, usability and cost of choosing SecurEnvoy products.
To get your company out of physical token hell, call 0845 260 0011 or email sales@securenvoy.com.
Category: Industry News

Multi-Factor
Authentication
(MFA)
Any user. Any device.
Anywhere.
For companies that take authentication seriously.
Learn more about SecurEnvoy MFA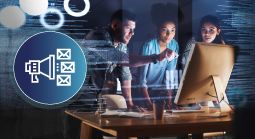 What to read next...