SecurEnvoy's OneSwipe technology finally heralds the death of the password
A pin. A tap. And you're in. It's that simple.
The way we access our digital lives is on the cusp of radical change. Passwords will finally become a thing of the past, as a revolutionary new way of two factor authentication (2FA) dispenses with the password altogether. This week, we announced the prototype of our latest OneSwipe authentication tool, built upon Windows 10's new near field communication (NFC) capability to securely authenticate a user's identity via a simple tap of their phone against a master device.
Since the dawn of the digital age, we have signed up to the password, trusting in its ability to keep our digital lives safe from thieves and those who would mean us harm. As cybercrime reaches endemic proportions and computing power doubles every two years, the humble password, however elaborate, is now alarmingly susceptible to a brute force attack. We've recognised that whilst 2FA as it currently exists eliminates the flaws of the traditional password, without simplicity it will never truly replace it.
That's why we've created OneSwipe with NFC capability.
SecurEnvoy OneSwipe provides a simple and intuitive user experience, whilst boasting the same strength as our popular two factor authentication suite.
Removing the need to remember lengthy URL's, passwords and user IDs, a user simply has to choose the account they want to activate, enter a four digit pin and tap their phone against any Windows 10 enabled PC or tablet device. This then automatically launches the chosen URL in the browser and automatically logs in. SecurEnvoy plans to bring the one tap technology to Android and iOS later this year.
The current OneSwipe technology uses a onetime QR code generated every thirty seconds on a user's device, which is then held up to a forward facing camera on a computer instead of an NFC tap. All current OneSwipe users will be upgraded to include NFC as the technology rolls-out to different platforms in the coming months; device permitting.
The Windows 10 developer tooling preview was made available to Windows Insiders on 23rd March 2015, whilst Microsoft continues to work on finishing Windows 10.
The prototype will be demonstrated at this year's RSA conference in San Francisco on stand 112.
Category: Industry News

Multi-Factor
Authentication
(MFA)
Any user. Any device.
Anywhere.
For companies that take authentication seriously.
Learn more about SecurEnvoy MFA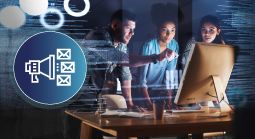 What to read next...