SecurEnvoy start their new partner programme
First-level support for end users, simple licensing model and webinars for secure two-factor authentication:
London/Munich, July 29th 2013 – Two-factor authentication expert SecurEnvoy and IT Security distributor ProSoft recently presented their partner programme for the German-speaking area of Europe (DACH region). There are three partner levels for which resellers can qualify – Accredited, Premier and Elite. Depending on the level attained, partners benefit from a range of services and support provided by ProSoft.
The partner programme currently applies to the distribution of the solutions SecurAccess, SecurPassword and SecurMail all of which offer on-premise or hosted cloud options. Using tokenless two-factor authentication, these provide, respectively, secure remote access, password resetting and secure e-mail transmission. Before investing, interested companies can also learn about the functions and applications of SecurAccess in free webinars.
The licensing model for SecurAccess is straightforward and licences are allocated per named user, regardless of the number of platforms used (e.g. Microsoft, Cisco, VPN etc.) or the authentication method selected (SMS passcode, soft token app etc.). As an introductory offer, interested parties can also obtain a free, not-for-resale (NFR) licence for testing purposes. In addition, partners can avail themselves of various pre-sales, support and marketing services. These include, for example, the provision of personal support to the partner by ProSoft for installation and startup activities. Furthermore, up to six employees can be trained specifically for pre- and post-sales, as well as marketing.
Tailored user authentication
The SecurEnvoy solutions operate without the need for any additional token; instead, they make use of mobile devices such as smartphones and laptops, etc. to send a passcode to the user via SMS, e-mail or soft token app. Users can then unambiguously identify themselves and thereby confirm their access rights using this sequence of numbers together with their personal login details. And the recently released Version 7 server engine even allows authentication to be carried out via a landline telephone, so that e.g. users in their home office have the chance to gain safe remote access without owning/using a smartphone.
"The licensing model offers our partners an attractive value-added benefit, as they can easily expand their product ranges and enter new markets," comments Robert Korherr, CEO of ProSoft. "We assist companies with customer care, particularly in the initial phase by providing first-level support for example. In terms of the economic perspective, our partners also benefit from discounted rates. SecurAccess has already generated a lot of attention due to its tokenless approach. We have seen a growing interest in the solution and in our partner programme, and will provide additional incentives in the coming months through various special offers."
ProSoft offers regular, free webinars aimed at interested companies wishing to learn more about SecurAccess and gain a first impression of the solution. The dates and registration form for the approximately 45-minute sessions are available at http://www.prosoft.de/produkte/securaccess/webinar/.
Category: Industry News

Multi-Factor
Authentication
(MFA)
Any user. Any device.
Anywhere.
For companies that take authentication seriously.
Learn more about SecurEnvoy MFA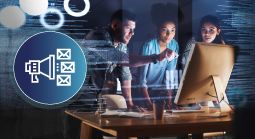 What to read next...