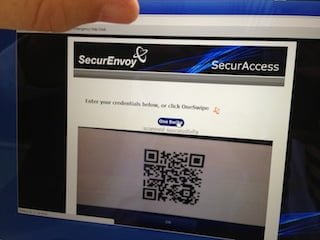 SecurEnvoy showcases its new 'One Swipe' technology at it-sa
Combination of a PIN and a one-time QR code ensure secure proof of identity. Offline authentication using smartphones and laptops: SecurEnvoy showcases its new 'One Swipe' technology at it-sa
SecurEnvoy now also offers an offline option for its tokenless two-factor authentication method. Even when there is no mobile phone reception or internet connection available, the company's 'One Swipe' technology enables secure authentication via smartphones and other mobile devices. After entering a PIN, the user uses a one-time QR code, which can then be scanned onto the user's computer or laptop using a webcam, thereby enabling secure proof of identity.
SecurEnvoy has expanded its range of authentication options with the addition of 'One Swipe'. Along with this new offline feature, users also have the option to obtain the passcode required for authentication via SMS, e-mail, voice call or soft token app. Depending on the option chosen, the codes are obtainable preloaded, on demand or at specified time intervals; packages are also available involving three codes being sent together.
Entered, generated, photographed
In order to ensure unambiguous identification, SecurEnvoy combines something that the user alone knows, such as a PIN or similar, with something that the user possesses, such as a smartphone. Only the correct combination permits a successful login. And with 'One Swipe', the user does not require mobile telephone reception or an internet connection. Instead, he or she simply enters his or her PIN in the soft token interface, which results in the device generating a one-time QR code. This is then photographed using a webcam attached to a computer, a smart device or integrated into a laptop. The information thereby transmitted provides conclusive evidence regarding the identity of the user. With this method, SecurEnvoy counters the problems with existing QR code solutions, such as the code being blocked by a firewall if sent online to a smartphone.
"The 'One Swipe' technology provides a secure and easy way for users to identify themselves offline if they do not have mobile phone reception," comments Andy Kemshall, Technical Director at SecurEnvoy. "We have once again expanded the number of options available to our users and remain true to our vision of 'Authenticate your way'. All users can thus identify themselves unambiguously in a way that suits them, and easily switch between the various methods SMS, e-mail, One Swipe etc."
Trade fair visitors can pay a visit at it-sa in Nuremberg to Stand 412 in Hall 12.0 in order to talk to the SecurEnvoy specialists.
This technology is patent pending and trade marked. Full capabilities and release date to be provided, we will keep you posted.
Category: Industry News

Multi-Factor
Authentication
(MFA)
Any user. Any device.
Anywhere.
For companies that take authentication seriously.
Learn more about SecurEnvoy MFA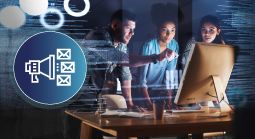 What to read next...