SecurEnvoy pushes sales in the North American market
The IT security expert SecurEnvoy is further strengthening its presence in North America. The creator of tokenless two-factor authentication recently entered into a partnership with the iNETWORKS Group. The globally active supplier of managed virtualisation, cloud, IT, network and security solutions will thus now act as an Elite Reseller and Support Provider.
SecurEnvoy is continually expanding its international network of partners, which has now been enhanced by the addition of iNETWORKS – a strategically important partner for establishment in the North American market. All the solutions are integrated into the managed technology, cloud and IT security portfolio. The special characteristic of the SecurEnvoy method is that no additional, dedicated tokens are required. Instead, this type of two-factor authentication makes use of existing devices such as mobile phones, smartphones and tablets. When logging in, the user enters a numeric passcode that is received by SMS or email, in addition to a username and password.
Straightforward identification using a QR Code
As an alternative, the user can generate the numeric code as a QR code, using a soft token app, and then photograph this QR code with a webcam using "One Swipe" technology, thereby proving his or her identity. SecurEnvoy also increases the level of security by using split seed records, a special algorithm for generating the passcode. The servers of the manufacturer and the customer servers never contain any information about the numeric sequence that could be manipulated.
"SecurEnvoy's tokenless two-factor authentication solution SecurAccess makes it possible for users to quickly and smoothly identify themselves from any device," comments David J. Smat, Chairman and CEO of iNETWORKS. "In particular small and medium-sized enterprises benefit thereby from a turnkey identity management solution, the total cost of ownership of which is up to 50% less than competing products. SecurAccess is available with per user licensing, which provides resellers and solution providers with the opportunity to adapt recurring revenues. This allows them to underline their position as a managed service provider for existing customers and also to have a competitive solution available for acquiring new customers."
"Mobile working is the favoured option of employees who want more flexibility," says Steve Watts, co-founder and Sales & Marketing Director of SecurEnvoy. "This is associated with increased security risks, however. We want to strengthen our position in North America as a result of our cooperation with iNETWORKS. The demand for secure network access is considerable. But conventional hardware tokens can be lost or damaged and result in waste. In contrast, tokenless authentication via a smartphone is secure and also environmentally friendly. Furthermore, these days virtually everyone carries a mobile phone with them wherever they go – so the authentication tool is already at their fingertips".
A video available on the SecurEnvoy YouTube channel shows how SecurAccess works. Interested parties can also register on the manufacturer's website to obtain a free 30-day test version of the solution.
About iNETWORKS Group, Inc.:
Founded in 2002, iNETWORKS is a leading provider of custom technology/cloud solutions and managed services to small, mid and large enterprises, education and healthcare organizations. Through its federal division, iNETWORKS provides mission critical telecommunications and technology solutions to the United States Department of Defense, FAA, NASA, VA and other government agencies. The company was ranked #1 in Crain's Chicago Annual List of the Fifty Fastest Growth Companies in 2010 and #7 in 2011 (Crain's Fast Fifty). The list represents the fastest growing companies in the greater Chicago area over a 5 year period. The company is headquartered in Chicago, IL. – www.inetworksgroup.com
Category: Industry News

Multi-Factor
Authentication
(MFA)
Any user. Any device.
Anywhere.
For companies that take authentication seriously.
Learn more about SecurEnvoy MFA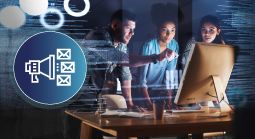 What to read next...