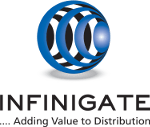 SecurEnvoy partnership with the distributor Infinigate concerning sales activities in Great Britain
SecurEnvoy 14/02/2014
Industry News
Businesses are witnessing the ongoing trend towards mobile working and working from home not only in Germany, but also in neighbouring countries such as Great Britain. This demand is being met by SecurEnvoy, a pioneer in the field of tokenless two-factor authentication, together with its distribution partner Infinigate. The BYOD trend requires solutions that enable employees to have secure, fast and straightforward ways of logging in remotely to IT networks. That is where the SecurEnvoy tokenless two-factor authentication method comes in – a solution which the value-added distributor (VAD) Infinigate is responsible for marketing in Great Britain.
SecurEnvoy technology combines personal login details with a passcode that users receive via their mobile devices, i.e. via mobile phone, tablet or laptop. The passcode can be transmitted by SMS or e-mail or it can be generated by a soft token app – users can decide which method they prefer. Only the correct input of both factors will allow access. Such tokenless identification forms the basis for all SecurEnvoy products. SecurAccess provides security for remote access, SecurPassword protects the recovery of passwords and SecurMail ensures secure e-mail transmission.
Comprehensive support for Infinigate customers
The VAD Infinigate is responsible for the marketing and distribution of SecurEnvoy solutions in Great Britain. Since being founded in 1996, Infinigate has specialised in the field of IT security. The VAD now has seven European branch offices and covers about 60 % of the Western European market. Its product portfolio includes, among other things, firewalls, virtual private networks (VPN), antivirus software and the securing of sensitive data from unauthorised access (content security). Infinigate distinguishes itself in particular through the wide range of services it provides for manufacturers and partners in order to underpin sales success. It can also provide pre-sales and after-sales experts. Furthermore, technical training sessions for partners and customers are held regularly at Infinigate's own training centres.
"Infinigate and SecurEnvoy have already completed a number of successful projects since the partnership was initiated", comments Alex Teh, Joint Managing Director at Infinigate UK. "There is definitely demand for reliable identification methods for remote access. And as use of the SecurEnvoy technology dispenses with the need for dedicated tokens, we can also offer solutions involving significant cost reductions."
"Working with a VAD such as Infinigate allows us to provide high level sales and technical support our reseller channel. Infinigate are working as an extension of our own team, giving us great scale across the region," adds Adam Bruce, Channel Manager at SecurEnvoy. "We are pleased that our collaboration continually bears fruit."