SecurEnvoy Launches New SecurAccess Virtual Security Appliance at Citrix Synergy
New Product Launch Creates Seamless Multi-factor Authentication Deployments
Anaheim, CA: Today, at Citrix Synergy, SecurEnvoy, a Premier Citrix Ready Partner, announced the launch of SecurAccess Virtual Security Appliance (S-VSA). Harnessing the unparalleled security of SecurAccess, the S-VSA offers predictable deployments in a highly secure, self-contained infrastructure. Based on a MS Server 2016 platform, the solution is self-updating ensuring the most rigorous compliance standards against multiple industries.
Steve Watts, Global Director of SecurEnvoy said, "As leaders and innovators in this space we have watched the rapid growth of multifactor-authentication over the years. We believe that our commitment to developing best-in-class security technologies starts with our customer's experience."
Mike Urgero, Senior Security Engineer stated, "We brought this S-VSA to market through customer feedback. The team and I developed SecurAccess S-VSA to create deployments that are seamless to reduce client efforts and costs. Our commitment to our client and partner's security scales beyond just innovative technology. We strive to exceed their expectations in every way."
SecurEnvoy's S-VSA makes it easy to trial, demonstrate and deploy enterprise class Multi-Factor Authentication (MFA) for small, medium and enterprise-class environments. As part of SecurEnvoy's commitment to exceeding customer expectations and leading security innovation, this product helps create effortless deployments for SecurEnvoy customers. With unmatched flexibility and the greatest number of options for end-user token delivery, SecurEnvoy S-VSA is the obvious MFA solution for the future.
About SecurEnvoy Inc.:
SecurEnvoy is the trusted global leader of multi-factor authentication and security for small, medium and enterprise businesses. Their innovative approach to the Tokenless® authentication security market now sees millions of users benefitting from their solutions all over the world. With users deployed across five continents, their customers benefit from seamless deployments, continued innovation and a zero footprint approach meaning there is no remote software deployment and administrators enjoy the management tools allowing them to rapidly deploy up to 100,000 users per hour. With its channel and partner centric approach, SecurEnvoy continues to grow rapidly with customers in Banking, Finance, Insurance, Government, Manufacturing, Marketing, Retail, Telecommunications, Charity, Legal, Construction. SecurEnvoy is a wholly owned subsidiary of London Stock Exchange listed (LSE AIM:SWG) Shearwater Group plc.
Category: Developers

Multi-Factor
Authentication
(MFA)
Any user. Any device.
Anywhere.
For companies that take authentication seriously.
Learn more about SecurEnvoy MFA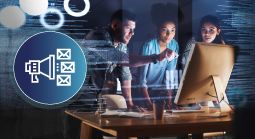 What to read next...