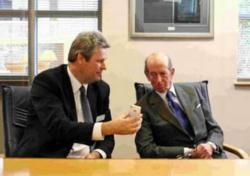 SecurEnvoy has received another Royal seal of approval
The Queen's cousin met the staff of leading two factor authentication company SecurEnvoy, to open the authentication company's new Merlin House headquarters in Theale, UK.
The Duke of Kent unveiled a plaque to mark the occasion for the multi-million pound business, which has its roots in Berkshire, England.
Last year the company, which boasts clients as diverse as The John Lewis Partnership, T-mobile and Invensys plc, won a Queen's Award for Export.
"He asked some very intelligent, in-depth questions," explained Andy Kemshall, CTO. "I was extremely surprised with the level of interest and knowledge he showed – he's very IT savvy." Andy said he and his colleagues were very proud to have been able to show the Duke around Merlin House, where he met staff and customers.
Andy said: "Since we've had the Queen's Award, our business turnover and sales has increased and it has certainly helped us export."
SecurEnvoy is enjoying its best year on record, growing year on year by 55 per cent. The company has expanded its global reach from 42 countries to 47 through its successful partner programme – most recently in Russia, Pakistan, Czech Republic, USA and Malaysia.
<more> http://uk.prweb.com/releases/2012/4/prweb9420404.htm
Category: Industry News

Identity and Access
Management
(IAM)
Making the complex simple.
Effective, secure IAM for all your business challenges.
Learn more about SecurEnvoy IAM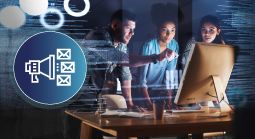 What to read next...