SecurEnvoy East Coast Office opens
Expanding operations across all continents; SecurEnvoy opens a new office in the USAs East Coast.
With financial results now published SecurEnvoy grows its pressence in the USA further with more expansion planned.
Against an industry backdrop of reducing revenues and job losses, SecurEnvoy expand and continues recruiting and expanding. This office in New York (373 Park Ave South, New York, NY 10016) is SecurEnvoy's commitment to the region and expansion on the East Coast.
As the remote access market accepts the tokenless invention that SecurEnvoy brought to market over ten years ago, so more new clients join to enjoy the savings, speed of deployment and reduced management overhead that tokenless two factor authentication provides.
Category: Industry News

Multi-Factor
Authentication
(MFA)
Any user. Any device.
Anywhere.
For companies that take authentication seriously.
Learn more about SecurEnvoy MFA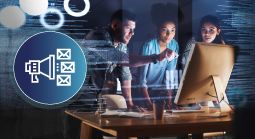 What to read next...