But phones cant talk
It was beyond imagination when Bell invented the phone and later made a call trunking between the UK and USA! Edisson followed with a higher quality version and with a better signal. True to form, as technology creeps on, so we see the enhancements and improvements taking place. Authentication is no different in this principle. The traditional plastic versions in the late eighties set the standard that so many followed; six digits, a simple to use display and small enough to add to the keyring. As time has moved forward so we brought to market the first 'tokenless®' alternatives, setting the standard that the industry now follows.
Combining both of these inventions; the telephone and the authenticator, so we have amalgamated the experience of using both. Such a feature that we have added into our authentication system is to receive a call via a landline or mobile phone when authenticating online and sending a signal back through the keypad as the out of band second factor to prove the identity of the recipient, simple and yet, in the words of one customer experiencing it for the first time, "this is such a no brainer'.
But when did the phone start talking to us? Was it when text to speech was supported by the telcos or was it a feature of the phone? Either way it's accepted as a reliable method to push technology through in order to make the second factor of an authentication convenient. Ironically we don't let kids talk back at their peers, but our cherished phone seems allowed to do so!
Apple launch their latest variation of the iPhone with fingerprint technology inbuilt, Android have embraced a facial recognition system and near-field-communication is just around the corner, so what's next for the mobile phone? Well whatever it is, and on whatever platform or version, SecurEnvoy will be supporting it and embracing these new technologies to make it the best end user experience, allowing the user to 'Authenticate your way'. So as long as you stay in control of the device and as long as the phone cant begin image gesturing back at us, then the future looks bright for the next generation of tokenless® authentication.
Category: Industry News

Multi-Factor
Authentication
(MFA)
Any user. Any device.
Anywhere.
For companies that take authentication seriously.
Learn more about SecurEnvoy MFA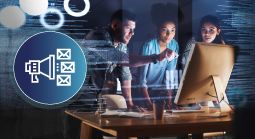 What to read next...