LANINET Solutions provides highly secure cloud logins with SecurEnvoy
SecurEnvoy works closely with the distribution partner LANINET Solutions in Scandinavia. SecurEnvoy's solutions, such as SecurAccess, have now been added to the Swedish IT company's security portfolio. The aim of the two partners is to expand the market presence of SecurEnvoy in Sweden. Tokenless two-factor authentication enables small and medium-sized companies to perform secure and fast cloud logins among other things. It also allows them to save on the operating costs of a token-based authentication solution. Together, the partners provide training and seminars in order to highlight the advantages of the tokenless method live.
Small and medium-sized businesses generally implement a number of security precautions with regard to cloud access, such as only allowing authorised employees to access internal company data in the cloud. Many businesses use tokens for authentication purposes, but these often involve significant operating costs. With its tokenless two-factor authentication method, SecurEnvoy solves this problem. Swedish IT distributor LANINET is now offering the solution through its resellers, to end users in fields such as finance, insurance, healthcare, government and municipalities, industry, telecommunications, energy and logistics.
Goodbye tokens
SecurEnvoy's technology allows employees to carry out their logins without the need for an additional token, as staff prove their identities using a combination of personal login details and a passcode. Users can receive this code via SMS, e-mail, voice call or a soft token app. The new One Swipe method also speeds up the authentication process significantly as it can work completely offline. Users generate a QR code in the soft token app for smartphones and then enter their login information and scan the QR code using the webcam within the smart device or laptop. This allows them to prove their identities in seconds, enhancing the user experience.
"The market for tokenless authentication continues to grow," explains Roland Andersson, CEO of LANINET Solutions. "Our plan for 2014 is to further establish SecurEnvoy on the Swedish market. Tokenless two-factor authentication is also a very important part of our cloud concepts. Our customers and resellers were already showing a high level of interest in the SecurEnvoy products and services last year and, in our new go-to-market plan, we are combining various strategies in order to strengthen market penetration in 2014."
"LANINET Solutions is an important partner in our European network," says Steve Watts, Sales and Marketing Director at SecurEnvoy. "Especially in the Scandinavian market where we want to ensure that customers are even more firmly convinced of the benefits of the tokenless authentication method. With its large reseller and customerbase in Sweden, the distributor LANINET can help us achieve our goals in this region."
Category: Industry News

Multi-Factor
Authentication
(MFA)
Any user. Any device.
Anywhere.
For companies that take authentication seriously.
Learn more about SecurEnvoy MFA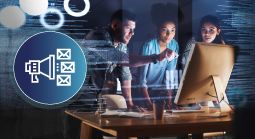 What to read next...