Growth in demand from China brings SecurEnvoy plc to open new sales channel
London/Hong Kong, 8th July 2013 – Technology specialist SecurEnvoy has extended its global sales network to Asia by recently partnering with IT Webster in Hong Kong in order to offer local points of contact for its tokenless two-factor authentication solutions in this thriving market.
The expansion of the company's sales network comes at the same time as it releases its new Version 7 server engine, a core component of the tokenless two-factor authentication carried out by users of SecurEnvoy via their mobile end devices. Version 7 also provides an intelligent Multi SMS Gateway in order to allow the sending of SMS messages via multiple GSM providers around the world.
By expanding in China, SecurEnvoy has strengthened its international standing as a specialist in highly secure and easy to use tokenless two-factor authentication solutions. "The expansion of our sales network to China is an exciting step for us," comments Steve Watts, Marketing and Sales Director at SecurEnvoy. "This region offers huge market potential for our tokeless two factor authentication and marks a further strategic milestone for our global distribution network. With strategic visits during June and July both IT Webster and SecurEnvoy have the opportunity to work with the early adopters of this patented tokenless authentication solution. With the help of the Version 7 server engine, we are aiming to acquire new customers and focused 'value added resellers' in China."
Authenticate Your Way
The two step verification approach developed by SecurEnvoy requires that the user has his or her personal login information and also a passcode, which can be received by SMS, e-mail or soft token app on an end device such as a smart phone, tablet or laptop. A new feature in Version 7 is Voice Call, via which users can also receive passcodes by making a landline-based phone call and then entering the code using the telephone's keypad; this new option allows users to identify themselves even if they, from time to time, have no mobile device available or do not have mobile phone reception or an internet connection. In Version 7, users can choose between receiving preloaded, three-code, real-time or daily codes via SMS or e-mail, as well as having the option of using a soft token app or Voice Call. In order to ensure delivery of SMS messages even in areas with poor mobile phone reception, SecurEnvoy has also equipped the new version with an intelligent Multi SMS Gateway, which allows the inclusion of an unlimited number of web-based SMS providers. Tokenless two-factor authentication forms the basis of all SecurEnvoy's solutions, which include SecurAccess for on-premise tokenless tow factor authentication secure remote access and SecurCloud for a hosted alternative.
Freedom, Control & Simplicity
"With the addition of SecurEnvoy tokenless authentication solutions, our security product portfolio is enriched", Bohlen Tong, Managing Director at IT Webster commented further: "We can offer this innovative and proven two factor authentication to Asian users with any mobile devices, at any time, from anywhere. The customers in the region will benefit from significant reduced time on deployment. By using SecurEnvoy solutions means that hardware tokens are no longer required, which is a big cost saving with regard to procurement, implementation, administration and maintenance."
About IT Webster:
A Hong Kong headquartered information technology company, focus on distributing proven IT security solutions covering endpoint security, remote access control and security, hardware IPVPN encryption, one time passcode security, email encryption, file encryption and digital right management, unified threat management, intrusion protection, etc. for emerging and innovative technology vendor partners across Asian regions. With over 10 years business establishment, IT Webster's management and its sales and consultant team have built an extensive network of channel partners particularly in the Greater China region and have been providing support and services to a wide spectrum of enterprises and government customers on deploying IT security solutions and fulfilling compliances to governed regulations and best practices.
Category: Industry News

Multi-Factor
Authentication
(MFA)
Any user. Any device.
Anywhere.
For companies that take authentication seriously.
Learn more about SecurEnvoy MFA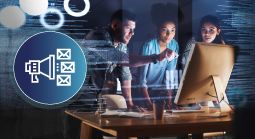 What to read next...