Gartner Magic Quadrant for User Authentication: SecurEnvoy positioned furthest and highest in completeness of vision and ability to execute in Niche Players Quadrant
Leading information technology research and consulting firm Gartner, Inc. recently published a new "Magic Quadrant for User Authentication" (Ant Allan, Anmol Singh, Eric Ahlm; 1 December 2014). SecurEnvoy, the inventors of tokenless two-factor authentication (2FA), were recognized for their completeness of vision and ability to execute. Considering the criteria used by Gartner, we believe this constitutes real recognition of the British developer's user-friendly authentication systems, which are well-established on the market.
SecurEnvoy is the developer of the SecurAccess phone-as-a-token platform. The server-based software does not require a dedicated hardware token but uses existing mobile devices as a second factor. Users can thus receive the numeric passcode (one-time passcode, OTP) required for logging in via SMS or via an app on their smartphone, tablet or laptop. The OTP is then combined with the user's personal login details in order to obtain access.
SecurEnvoy's tokenless technology won a number of awards in 2014. These included the American SC Magazine's award in the "Best Buy" category and the prestigious Queen's Award for Enterprise aswell as most recently the Queens Award for Export from the British royal family. As an alternative to the SMS method, the British provider of 2FA solutions has also developed another reliable option that does not need mobile reception: One Swipe technology, used together with a soft token app, enables passcodes to be sent via QR codes.
"We believe our annual growth of 40% and our inclusion in the Gartner Magic Quadrant for User Authentication highlights the fact that our tokenless method has really established itself in the IT market," comments Steve Watts, Sales and Marketing Director at SecurEnvoy. "Our market perspective has also been evolving allowing us to communicate with the market about our market leading tokenless developments as we continue to develop new methods that go beyond the traditional SMS-based transmission of passcodes, we are already working on new, secure authentication solutions, for example in the field of NFC and Bluetooth. The contactless but still secure transmission of OTPs is our next development goal where we have significant patents pending."
Gartner, Inc., "Magic Quadrant for User Authentication", by Ant Allan, Anmol Singh, Eric Ahlm; 1 December 2014.
Category: Industry News

Identity and Access
Management
(IAM)
Making the complex simple.
Effective, secure IAM for all your business challenges.
Learn more about SecurEnvoy IAM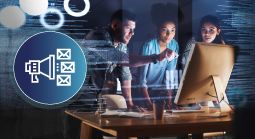 What to read next...