E-DATA Teknoloji launch together with SecurEnvoy in Turkey
London/Ankara, 12th June 2013 – IT security specialist SecurEnvoy has extended its global sales network by recently signing a VAD agreement with E-DATA Teknoloji in Ankara (Turkey) in order to offer local points of contact for its tokenless two-factor authentication solutions in this thriving market.
The expansion of the company's sales network comes at the same time as it releases its new Version 7 server engine, a core component of the tokenless two-factor authentication carried out by users of SecurEnvoy via their mobile end devices. Version 7 also provides an intelligent Multi SMS Gateway in order to allow the sending of SMS messages via multiple GSM providers around the world.
By starting the partnership with E-DATA Teknoloji, SecurEnvoy has strengthened its international standing as a specialist in highly secure and easy to use tokenless two-factor authentication solutions. E-DATA Teknoloji will be managing all commercial activities of SecurEnvoy in the Turkish area. "The expansion of our sales network to the Far East is an exciting step for us," comments Steve Watts, Marketing and Sales Director at tokenless vendor SecurEnvoy. "This region offers huge market potential and marks a further strategic milestone for our global distribution network. With the help of the new Version 7 server engine, we are aiming to acquire new customers and partners."
Flexible method for unambiguous identification
The approach developed by SecurEnvoy requires that the user has his or her personal login information and also a passcode, which can be received by SMS, e-mail or soft token app on an end device such as a smart phone, tablet or laptop. A new feature in Version 7 for two step verification is Voice Call, via which users can also receive passcodes by making a landline-based phone call and then entering the code using the telephone's keypad; this new option allows users to identify themselves even if they, from time to time, have no mobile device available or do not have mobile phone reception or an internet connection. For two factor authentication, in Version 7, users can choose between receiving preloaded, three-code, real-time or daily codes via SMS or e-mail, as well as having the option of using a soft token app or Voice Call. In order to ensure delivery of SMS messages even in areas with poor mobile phone reception, SecurEnvoy has also equipped the new version with an intelligent Multi SMS Gateway, which allows the inclusion of an unlimited number of web-based SMS providers. Tokenless two-factor authentication forms the basis of all SecurEnvoy's solutions, which include SecurAccess for secure remote access and SecurMail for the secure sending of e-mails.
"This agreement represents an important step in E-DATA Teknoloji's strategy to strengthen our presence in the security software market", declared Ufuk Metin Demirci, Business Development Manager of E-DATA Teknoloji. "The significant expertise of our Turkish customers, with whom we have had a profitable relationship for 25 years as a technology group, is the best guarantee of success for this initiative."
About E-DATA Teknoloji:
E-DATA Teknoloji has been established in 2008 as an affiliated company of EPDATA, that has been founded in 1988 and has become a leader company which directly co-operates with Turkish governmental agencies. With a 25-years history of experience in the IT sector, E-DATA Teknoloji continues to operate in a number of fields ranging from ready-made solutions to IT. The company has become a leader in the Turkish IT industry thanks to the value added services it provides in the market. It focuses particularly on software distribution and the IT Services sector.
Category: Industry News

Multi-Factor
Authentication
(MFA)
Any user. Any device.
Anywhere.
For companies that take authentication seriously.
Learn more about SecurEnvoy MFA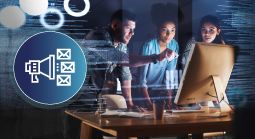 What to read next...