British Based IT Security Firm Breaks Into 42 Countries
Local technology firm SecurEnvoy is enjoying international success thanks to the support of UK Trade & Investment (UKTI).
Established in 2000, with bases in Bristol and Reading, the company specialises in IT security systems. Its unique secure, two-factor authentication system protects sensitive data on all mobile devices and applications, and is more commonly described as 'chip and pin for the internet'
The system provides a more secure method of accessing data, so instead of just entering a log-in and password, the user is also sent a unique six-digit pin number via SMS on their mobile phone. This number can only be used once and expires after use.
The system incorporates technology which connects with a variety of mobile phone networks, and copes with problems associated with delays in sending and receiving text messages, and with inconsistencies of signal availability. Compared to alternative methods, the system is less complex to control and more cost effective to operate.
Since the company was established 11 years ago, SecurEnvoy has won contracts with major organisations including John Lewis, Save the Children, NHS and The Princes Trust, to name a few. Having enjoyed sustained success and secured a customer base in the British market, SecurEnvoy was keen to capitalise on overseas markets. However, its co-founders Steve Watts and Andy Kemshall quickly recognised that assistance was needed in how to approach international trading.
SecurEnvoy began working with UKTI South West in 2005, with the assistance of International Trade Advisor Mike Brodin, who quickly signed up the company to the UKTI Passport to Export programme as an introduction to trading overseas.
This was also supported by UKTI's Overseas Market Introduction Service, which provided the company with invaluable access to potential partners, seminars and trade missions to various countries.
As a result of UKTI's support, SecurEnvoy has expanded its distributor and partner network globally, with the likes of Avnet, iSecure, SecurLink and Motiv. Originally starting with Scandinavia and the Netherlands, the company now has partner agents and re-sellers established in 42 countries across Europe, America, Asia and Africa – the latest being in Czech Republic, Russia, Slovakia and Turkey.
Co-founder Steve Watts said: "We have worked with Mike as our International Trade Advisor for some five years now and it was clear from the start that he understood our specific needs and goals, enabling us to agree a work plan that would help us penetrate these new markets.
"The support and advice we've had from UKTI has been invaluable and instrumental in our overseas success."
UKTI's International Trade Advisor Mike Brodin added: "It's always great to see such innovation right on our doorstep. SecurEnvoy really is leading the way when it comes to security systems – their international success is much deserved and I have no doubt that this will continue."
In addition to its international success, SecurEnvoy has this year won a Queens Award for Innovation. Its co-founders attended a reception at Buckingham Palace in July to celebrate the accolade.
Category: Industry News

Multi-Factor
Authentication
(MFA)
Any user. Any device.
Anywhere.
For companies that take authentication seriously.
Learn more about SecurEnvoy MFA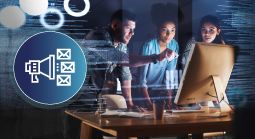 What to read next...