SecurEnvoy Releases much-anticipated SecurAccess Version 9
SecurEnvoy has released the latest and most advanced version of their successful SecurAccess user authentication solution. The latest iteration, which is expected to generate interest from existing clients looking to upgrade and new customers looking to bolster their data security, adds a number of features to make administrators' and end-users' lives easier and more secure.
New functionality includes additional and improved authentication options, such as support for the Yubikey hardware token and simplified "One-Tap" login via NFC. Meanwhile, administrators can take advantage of extended features including a REST API to enable easier integration with customer applications, and a fully redeveloped admin dashboard that promises to make management and monitoring easier than ever.
Sales and Marketing Director, Steve Watts said of the latest release: "We've been working continuously over the last year to ensure SecurAccess retains its place as a leader in an increasingly competitive marketplace. I'm confident that Version 9 achieves this, by bringing new levels of security and usability to existing customers, and helping us grow our client base with its flexibility and ease of integration."
Category: Product Updates

Multi-Factor
Authentication
(MFA)
Any user. Any device.
Anywhere.
For companies that take authentication seriously.
Learn more about SecurEnvoy MFA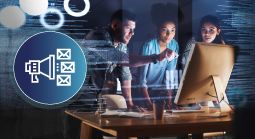 What to read next...