SecurEnvoy Boosts Reach in Australia and New Zealand through New Distribution Partnership with Connector Systems
SYDNEY 27th March, 2015: SecurEnvoy, the original inventor of token-less authentication, today announced that it has signed an agreement with Australia / New Zealand-based IT distributor, Connector Systems, to bring its Two Factor Authentication product portfolio to a broader market in Australia and New Zealand.
"Connector Systems has a reputation for partnering with the best companies in IT and bringing superior value to businesses across Australia and New Zealand," says Andrew Grace, Regional Channel Manager ANZ for SecurEnvoy.
"A strong security focus and a desire to partner with a channel focussed vendor (who are also in Gartner's top ten) were important criteria in Connector Systems' vendor selection. And from our perspective, having already had success in the Government, Retail and Manufacturing verticals, a focussed VAD that operated with VARs was exactly what we were looking for to expand on this success."
"Connector Systems can bring our secure range of 2FA solutions to new partners and markets," adds Grace.
Andrew Craze, Country Manager at Connector Systems states, "We work only with vendors and partners who are considered among the very best in their category. Our priority is to provide new and unique opportunities to our customers."
"For this reason, we're particularly excited to work with SecurEnvoy. Their goal is to continue to design innovative solutions that take advantage of the users' mobile phones or other personal devices as the "something you own" part of two factor authentication and resolve issues that have prevented their adoption such as SMS delays, no phone signal or soft token synchronisation problems."
Craze concludes, "SecurEnvoy is an important part of our security portfolio and will add great value to our customers."
About SecurEnvoy
SecurEnvoy is the trusted global leader of mobile phone based Tokenless® two-factor authentication. Its innovative approach to the multi-factor authentication market now sees millions of users benefitting from its solutions all over the world. Controlling endpoints located across five continents, SecurEnvoy design innovative two step verification solutions that leverage both the device the user carries with them and their existing infrastructure. The solutions are the fastest to deploy and the most secure in the industry. With no hardware or deployment issues, the ROI is dramatically reduced and easily managed.
With its channel centric approach, SecurEnvoy continues to expand its revenue and profitability year-on-year through its options to host on premise, MSP or Cloud. SecurEnvoy has customers in government, healthcare, energy, financial services, insurance, manufacturing, marketing, retail, telecommunications, charity, legal, and construction sectors.
Its integration partners include some of the world's largest blue-chip organisations such as Juniper, AEP, Sophos, Cyberoam, Citrix, Fortinet, Cisco, Checkpoint, Palo Alto, and Microsoft.
About Connector Systems
Connector Systems is a specialist Value Added Distributor with offices in Sydney, Melbourne and Auckland. We work with our channel partners to develop new opportunities, and new routes to market for the vendors we represent. With the backing of market-leading, globally recognised brands, we assist our resellers to meet the technology needs of their customers regardless of size or industry. We believe business is at its best when we completely understand the needs of our partners. Our primary aim is to create organically, commercially satisfying relationships with resellers and vendors alike, where our skills and expertise help to create commercial success.
For more information, please contact:
Andrew Craze
Country Manager Connector Systems
mailto:andrew.craze@connectorsystems.com.au
http://www.connectorsystems.com.au
Category: Company News

Multi-Factor
Authentication
(MFA)
Any user. Any device.
Anywhere.
For companies that take authentication seriously.
Learn more about SecurEnvoy MFA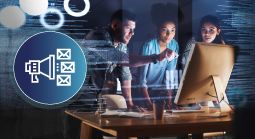 What to read next...