Meet the Team – Doug Chase (VP Sales/Channel, Americas)
In the latest of our "Meet the team" blogs, we meet Doug, our VP Sales for North America who holds the distinction of being our first employee in the US. As we've expanded our footprint to three offices and are welcoming 4 new payrolled employees this month alone, Doug not only plays a critical client facing role, he's also key to ensuring the US and European teams are singing from the same hymn sheet.
It's just as well then, that Doug is an accomplished musician (albeit more rock n roll than gospel) and has been playing keyboards for over 20 years. He can often be found playing with his band in the bars and venues in and around Chicago Illinois.
When he's not tickling the ivories, Doug's not short of things to do, from fulfilling the role of IT support desk to his large extended family, and building his own computers to penning short stories and non-fiction. So what keeps Doug at SecurEnvoy? In his own words "As SecurEnvoy evolves as an innovating leader in MFA technology, the opportunities with Version 9 and beyond are tremendous. There are so many organisations that are just starting to embrace the absolute necessity of MFA and SecurEnvoy is well positioned. As the Leader of the Americas, we are putting the right people in place that will allow us to expand our footprint and capitalise on core partners in a very large country – It's an exciting time to be part of the team!"
We're glad our US operations are in such talented hands.
Category: Company News

Identity and Access
Management
(IAM)
Making the complex simple.
Effective, secure IAM for all your business challenges.
Learn more about SecurEnvoy IAM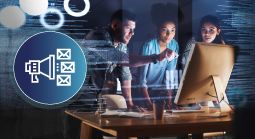 What to read next...