SecurEnvoy Fantasy League Promotion Terms and Conditions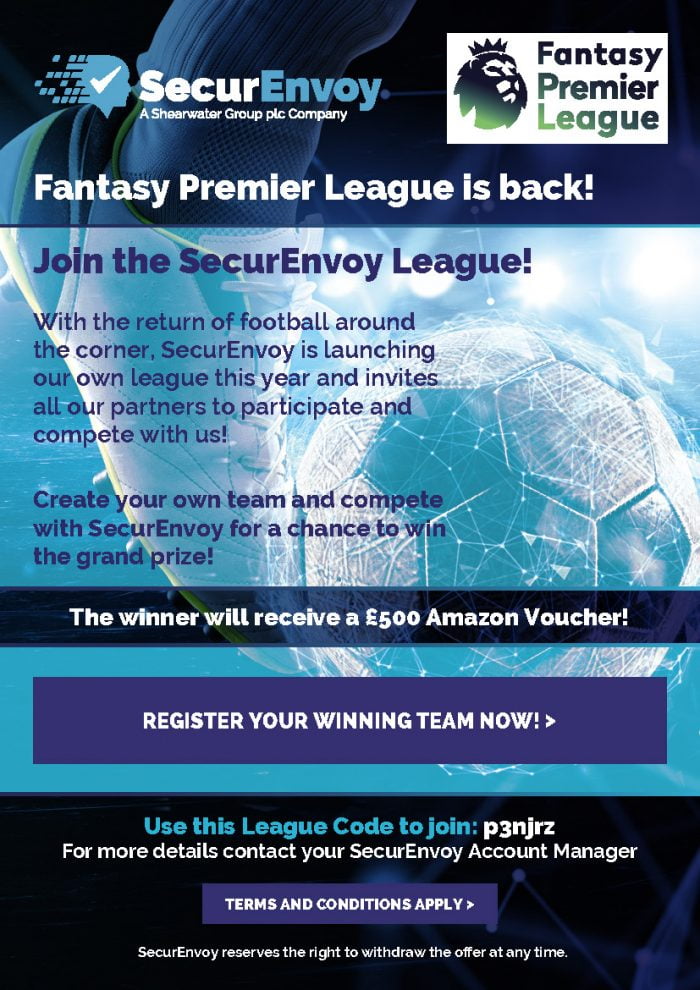 1 How to participate
1.1 In order to enter this promotion, go to https://fantasy.premierleague.com/leagues/auto-join/p3njrz and enter the information requested.
1.2 All entries must include your name, email address, postal address (including postcode), and telephone number.
1.3 Entries that do not comply with these promotion rules will be void and will not be entered into this promotion.
1.4 The competition is free to enter into and entrants may enter this promotion a maximum of one entry per individual. Entries over the maximum number of entries will be void and will not be entered into this promotion.
2 Start date
This promotion will start at 12:00 on 5th August 2022.
3 Closing date
The closing date for this promotion will be 5th September at 23:59. Entries received by the promoter after this time will be void and will not be entered into this promotion.
4 Selection of the winner
4.1 The winners will be the individual with the highest placed entry from a qualifying SecurEnvoy Accredited Channel Partner and the highest place SecurEnvoy staff member.
5 Prize
5.1 The prize is as follows:
5.1.1 the highest placed entry from a SecurEnvoy Accredited Channel Partner or Distributor will receive Amazon vouchers to the value of £500.
5.1.2 The highest placed entry from a SecurEnvoy staff member, will receive Amazon vouchers to the value of £100.
5.2 There is no prize for coming second in the competition.
5.3 There is no alternative prize.
5.4 The prize is non-transferable and does not include any additional costs and expenses.
6 Restrictions and requirements
6.1 Please note the following restrictions and requirements apply:
6.1.1 the prize is only open to those above the age of 18;
6.1.2 qualifying entrants are individuals employed by a SecurEnvoy accredited reseller or distributor or SecurEnvoy staff members.
6.1.3 Qualifying entrants must follow SecurEnvoy on LinkedIN.
7 Notification of the results and receipt of the prize
7.1 The promoter will notify the winner by email within 30 days from the close of the football season on 28 May 2023.
7.2 The winner will receive their prize on or before 1 July 2023.
8 Publicity and personal information
8.1 The promoter will use your personal information only in accordance with these terms and conditions and our https://securenvoy.com/cloud-privacy/
8.2 The winner will be published at www.securenvoy.com/fantasyleague for 30 days after the closing date.
8.3 You acknowledge that you may be asked to participate in publicity if you are selected as a winner.
9 General
9.1 This promotion is operated by SecurEnvoy Ltd.
9.2 While nothing in these terms and conditions will limit the promoter's liability for death or personal injury caused by its negligence or for fraud, the promoter will not be legally responsible to entrants or winners for any losses that were not foreseeable to the promoter or to the entrant at the time of entry to the promotion or which are caused by a third party.
9.3 The laws of England apply to these terms and conditions, although if you are resident elsewhere you will retain the benefit of any mandatory protections given to you by the laws of that country.
9.4 Any disputes will be subject to the non-exclusive jurisdiction of the courts of England. This means that you can choose whether to bring a claim in the courts of England or in the courts of another part of the UK in which you live.