SecurEnvoy releases SecureIdentity for Identity and Access Management
SecurEnvoy, A Shearwater Group plc company is excited to announce its release of SecureIdentity IAM (Identity and Access Management); the latest offering in the company's signature SecureIdentity Platform. 
The Public BETA release is now available to our Channel Partners and Existing Customers who have registered for the Public BETA program.  Full General Release is expected in H2 of Fiscal Year ending March 2021.
Click Here To Join The Public BETA Testing Programme.
Universal Directory (UD) will form the key component of the SecureIdentity Identity and Access Management solution.  Over the next 6 months, continuous integration and deployment will see the platform rapidly expand its capability and end user cases to form a fully-fledged Identity and Access Management solution.   
The core functionality of the new Universal Directory (UD) will include Directory Synchronisation and enhancements to User & Group Management.  The platform will be regularly complemented with new features and application integrations.
The overall SecureIdentity IAM solution will be the centrepiece for the user experiences by simplifying the logon experience with adaptive authentication and single sign on (SSO).  It will also improve organisations security with more functionalities and integrations to centrally manage and intelligently enforce security policies for users. 
SecureIdentity IAM
Enforce access to secure your data.
More information can be found at: https://www.securenvoy.com/en-gb/identity-and-access-management-iam
Steve Watts, CEO of SecurEnvoy states,
"The team have been focussed to deliver this latest release and are all proud to be offering these additional services that we are launching today. Our last major software release in September gave clients the capability for Data Discovery and a Data Loss Prevention suite. It has been a successful launch and we have had a positive uptake. In parallel, we have been developing our next release, which is the first of a series for a new SecureIdentity IAM platform. In these challenging times the need for security has never been more essential; we are fulfilling for our customers the capability for protecting the user, the device and the data with our suite of solutions." 
Phillip Underwood, CIO of SecurEnvoy states,
"This is a major milestone for the company, as after designing our new SecureIdentity platform, Identity and Access Management is our first solution deployed. This will allow customers to utilise SecurEnvoy MFA to single sign on into multiple cloud applications using multiple directory servers". "SecurEnvoy understand that customers require choice of how their estate is managed and supported, as a company we provide the flexibility and a single source of truth of how they manage their users in an easy and effective method with minimal overhead." 
Adam Bruce, CRO of SecurEnvoy, states,
"This marks a significant step forward for SecurEnvoy, our trusted Channel Partners and valued Customers.  Customers will now be able to grow with SecurEnvoy and move from MFA only deployments to embrace the innovative Access Management features that are being introduced with this new release.  The SecureIdentity platform is rapidly increasing in breadth of capability, and IAM adds to the already strong Multi-Factor Authentication and Data Loss Prevention offerings within the suite." 
Naveed Asghar, Head of Development at SecurEnvoy, states,
"SecurEnvoy's latest IAM offering runs on new highly scalable and configurable cloud platform that has been designed and developed with an agile framework. This enables us to leverage on innovative and research driven technologies and also help business processes to integrate and function seamlessly."
Category: Product Updates

Identity and Access
Management
(IAM)
Making the complex simple.
Effective, secure IAM for all your business challenges.
Learn more about SecurEnvoy IAM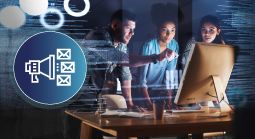 What to read next...