SecurEnvoy positioned as a "visionary" in Gartner Magic Quadrant for User Authentication
The leading information technology research and advisory company Gartner, Inc. recently published its "Magic Quadrant for User Authentication" (Ant Allan, March 7, 2013) and SecurEnvoy, a specialist in tokenless two-factor authentication, is now positioned in the "visionaries" category. Based on Gartner's criteria, SecurEnvoy believes this means it has demonstrated a well-structured vision which is in line with market trends and has hit the mark. According to Gartner, newer wide- and tight-focus vendors are making significant inroads and offer enterprises sound alternatives across a range of needs. Market researchers also estimate that by 2017 more than 50% of enterprises will choose cloud-based services as the delivery option for new or refreshed user authentication implementations — up from less than 10% today.
SecurEnvoy's main product for user authentication is called SecurAccess. This server-based software enables clear and unambiguous identification of users without the need for additional tokens, as mobile end devices, such as smartphones, laptops and netbooks, are used as the second factor required for authentication purposes. This device receives the multiple digit passcode required for login purposes via an SMS or an app. The user then combines this code with access data known only to him or her in order to log in.
"We consider our classification as 'Visionary' recognition of our adoption in the market, the acceptance of 'tokenless' which we brought to market and the combination of our capability to execute and our visionary outlook has moved our position, which has been moving up every year in the Magic Quadrant", comments Steve Watts, Sales and Marketing Director at SecurEnvoy. "With our new version soon to be released we will continue in keeping with our motto at SecurEnvoy: We lead where others follow in this market."
Andy Kemshall, CTO at SecurEnvoy, adds: "We are pleased to finally be positioned as a visionary. We feel this recognises our ground breaking work as the inventors and leaders of next generation tokenless authentication. This would not have been able without our great team. Everyone works passionately to keep up our success and improve our portfolio."
Gartner, Inc., Magic Quadrant for User Authentication, Ant Allan, March 7, 2013.
About the Magic Quadrant:
Gartner does not endorse any vendor, product or service depicted in its research publications, and does not advise technology users to select only those vendors with the highest ratings. Gartner research publications consist of the opinions of Gartner's research organization and should not be construed as statements of fact. Gartner disclaims all warranties, expressed or implied, with respect to this research, including any warranties of merchantability or fitness for a particular purpose.
About SecurEnvoy:
SecurEnvoy is the trusted global leader of Tokenless® two-factor authentication. SecurEnvoy lead the way as pioneers of mobile phone based Tokenless® authentication. Their innovative approach to the Tokenless® market now sees thousands of users benefitting from their solutions all over the world. With users deployed across five continents, their customers benefit from significant reduced time to deploy and a zero footprint approach means there is no remote software deployment and administrators enjoy the management tools allowing them to rapidly deploy up to 100,000 users per hour. With its channel centric approach, SecurEnvoy continues to expand its revenue and profitability year on year with customers in Banking, Finance, Insurance, Government, Manufacturing, Marketing, Retail, Telecommunications, Charity, Legal, Construction. Their partners include, Juniper, AEP, Astaro, Sophos, Citrix, Fortinet, Cisco, Checkpoint, Microsoft, F5 and others.
Category: Industry News

Identity and Access
Management
(IAM)
Making the complex simple.
Effective, secure IAM for all your business challenges.
Learn more about SecurEnvoy IAM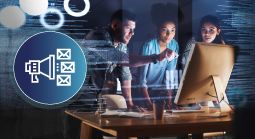 What to read next...