SecurEnvoy Expands Technology and Marketing Leadership Team
London, UK: SecurEnvoy expanded the leadership ranks last week by adding three experienced executives to the team. Phil Underwood has been appointed CIO, Nigel Dyson, Product Development Manager and Greg Gerik, CMO.
Phil has over 20 years of experience in the security industry designing industry leading security architectures. He is considered a security expert and leading advisor on security protection for enterprise global firms. Phil's passion for developing bleeding edge solutions and the recent momentum of SecurEnvoy technology development convinced him to return to SecurEnvoy for a second time.
"Having spent time advising many global corporations, security startups and consulting in the industry, I'm excited to return to the team that continues to lead the industry securing and protecting the enterprise," Phil stated.
Nigel Dyson has over 25 years of experience with technology firms leading and building development teams. He brings a proven track record of building successful teams and value for end users. Nigel stated, "I feel that SecurEnvoy is on the cusp of something very special. I enjoy working with smart teams that have a passion and hunger to create the next great technologies for customers."
Greg Gerik has over 14 years of marketing experience with technology startups and enterprise technology and information companies such as 3M and Thomson Reuters. His expertise integrating marketing activities with sales teams will accelerate sales productivity and bring customers closer to the process of building the future of enterprise security technology. He will continue to remain based in the United States to manage the global marketing teams.
Steve Watts, Global Director of SecurEnvoy remarked, "We are thrilled our growth trajectory allows us to expand our leadership talent to bring even more value to our customers. There is no greater validation to the hard work of our team and our technology vision than Phil's decision to return to be a part of this exciting next chapter."
Category: Company News

Multi-Factor
Authentication
(MFA)
Any user. Any device.
Anywhere.
For companies that take authentication seriously.
Learn more about SecurEnvoy MFA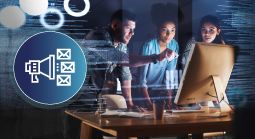 What to read next...