Explosive growth in 2 factor authentication sees SecurEnvoy sign distributor Vigil
SecurEnvoy the inventor of tokenless™ 2 factor authentication has today signed an agreement with Vigil Software, the specialist IT security Distributor, to become their second major distributor in the UK.
Theale – Berkshire – 6th February 2012 – SecurEnvoy the inventor of tokenless™ 2 factor authentication has today signed an agreement with Vigil Software, the specialist IT security Distributor, to become their second major distributor in the UK. SecurEnvoy has previously worked exclusively with one of the world's largest distributors Avnet.  This partnership follows a bumper year in 2011 where SecurEnvoy grew by over 50% justifying enough value in the Channel for two distributors.
Vigil will sit alongside Avnet to provide an extra distribution layer for SecurEnvoy's products in the UK and make a perfect fit for SecurEnvoy as they have the same outlook on the market and much in common. Both companies have been established for over 10 years and Vigil has also had a hugely profitable 2011 seeing growth in excess of 60%.
Steve Watts, co-founder and Head of Channel Sales said "By introducing Vigil as an additional distributor, there is more competition in the market, which provides the resellers with more choice and value.  Vigil also has a very different style to Avnet who have a traditional channel compared with Vigil who are dynamic, agile and have a faster route to market."
Vigil had previously built up a loyal channel in the authentication space with GrIDsure sure who went into liquidation last Autumn, so it made sense for Vigil to partner with a solid, best of breed vendor such as SecurEnvoy who can now fill this space.
Alex Teh – Commercial Director at Vigil said "It was paramount to us that the vendor we chose to complement our security portfolio in the tokenless two factor authentication space had to show a proven product with technical excellence and strong technical USP's.  It was also imperative that SecurEnvoy had an excellent A1 credit rating from the likes of Dun and Bradstreet – giving the assurance that they are in for the long term.  SecurEnvoy ticked all the right boxes, we believe tokenless 2 factor authentication is the way of the future and we are committed to selling this product from a vendor who we know can deliver and importantly understands the channel model."
Vigil's approach and pedigree also stood out for SecurEnvoy.  They have had great success in the IT security space with other clients such as M86, Safend, Evidian, TITUS and Ultra -AEP, offering a strong deal registration programme.  As part of the overall package, Vigil will be offering to partners a state of the art training centre, pre-sales demos, proof of concept and will also be providing their extensive PR, data and marketing  portal capabilities to their partners.  They also provide a 24 X 7 helpdesk and first and second line support for partners where required by partners.
"2012 is an important year for us as we intend to aggressively grow our customer base and we want Vigil to play a major part in this growth" concluded Watts.
About SecurEnvoy
SecurEnvoy is the trusted global leader of tokenless two-factor authentication. SecurEnvoy lead the way as pioneers of mobile phone based tokenless authentication.
Their innovative approach to the tokenless market now sees thousands of users benefitting from their solutions all over the world. With users deployed across five continents, their customers benefit from significant reduced time to deploy and a zero footprint approach means there is no remote software deployment and administrators enjoy the management tools allowing them to rapidly deploy up to 20,000 users per hour.
With its channel centric approach, SecurEnvoy continues to expand its revenue and profitability year on year with customers in  Banking, Finance, Insurance, Government, Manufacturing, Marketing, Retail, Telecommunications, Charity, Legal, Construction. Their partners include, Juniper, Citrix, Fortinet, Sonic Aventail, Cisco, Checkpoint, Celestix, Microsoft, F5 and others.
About Vigil Software
Vigil Software is a privately owned UK company, established in 2001 and based in London, which supplies Information Security Solutions to UK resellers and customers. Vigil Software carefully source and market information security solutions that help with today's increasing requirement to protect information, comply with legislation and regulation and improve productivity.
Vigil Software offer an integrated solutions portfolio and vendors are carefully selected to ensure that all solutions are easy to install, easy to use, easy to support and deliver an effective solution.
Vigil Software's strategy of including exclusive and channel committed vendors with strong channel management provides a unique commercial proposition and partner rewards to resellers.
For more contact:
Yvonne Eskenzi on 0207 1832 832
Email: Yvonne@eskenzipr.com
Or visit SecurEnvoy at www.securenvoy.com
Category: Industry News

Multi-Factor
Authentication
(MFA)
Any user. Any device.
Anywhere.
For companies that take authentication seriously.
Learn more about SecurEnvoy MFA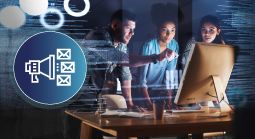 What to read next...